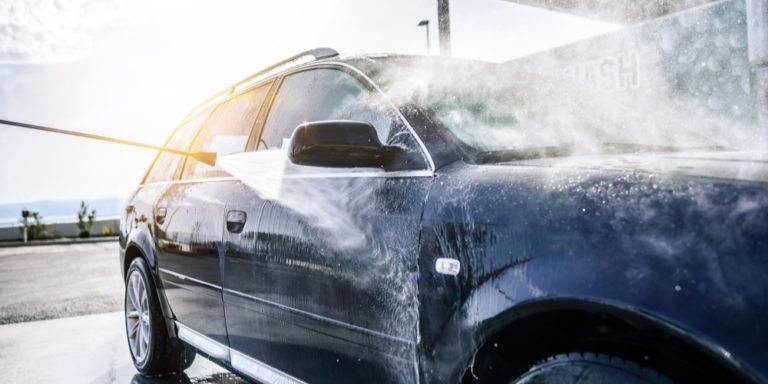 Full Detailing Car Wash Near Me
When you schedule a car detailing service in Hobart, you may notice many options. The service our Car Detailers in Hobart get asked for most is the exterior and interior car wash or better known as "full detail." We are a fully mobile Car Detailing service coming to your home or office. You will never have to search for a Car Wash again!
What does a full detail usually include?
Well, as the name suggests, a full detail comprises of all non-mechanical elements of your car: 
Wheels and Tyres

Exterior paint

Chrome trim

The interior coverings

Seats and carpets 
It's a complete and thorough revitalisation for your car! Our professional Car Detailers in Hobart will make your car look and fell like new again.
Is it time to book a full service car wash? 
Whether you're planning to sell your car, or you'd wish to return it to its near-new gleam; washing and detailing your car is always a great approach. 
Here are some particular points you can expect with a full car detail service from Professional Touch Car Detailing:
Paint Care and Polish  By OUR 

Car Detailers in Hobart

In Tasmania, our car's can often receive a lot of wear and tear. Dirt, debris and grease gather on the exterior of the paint, and over time, this stuff can tarnish the paint's shine and initiate rusting, paint fade, and scratching.

With a full detail from our car detailing professionals, the surface on your car gets the most intimate care. First, the surface is pressure cleaned to eliminate grime and then hand-dried. A clay bar will often be utilised to eliminate the tough-to-remove particles. Finally, a hand or machine polish provides an even gloss and removes fine marks.
Exterior Trims Polished and Gleaming
Exterior coverings like plastics, rubber and chrome can all weaken and break without care and due diligence. Frequently cleansing and reviving the elements will guarantee they're preserved. Throughout a full detail, outside coverings are washed, and then they're dressed. A plastics solution can be utilised to rubber or vinyl, and the chrome trims will be polished. 
Its the perfect Car Wash Near me!
DEEP CLEANING YOUR VEHICLES CARPET
Many Enthusiast auto detailers don't have the tools to cleanse, purify and shampoo the carpets correctly. A full service detail revives the carpets, beginning with an extensive vacuuming. Next, the carpets are shampooed and deodorised to perfection.
LEATHER SEATS AND COVERS REJUVENATED by OUR 

Car Detailers in Hobart

Leather needs specific conditioning and treatment while cleaning. Some conventional car washing products are exceedingly caustic for leather and may indeed do more major harm than good. While interior detailing, our experts will have any leather coverings in your car perfectly cleansed and conditioned. This will encourage the leather to return to its natural brilliance, as well as protect it from stains and water damage.
INTERIOR SURFACES CLEANSED AND PURIFIED
Each cranny and crevice of your car's interior often collects all sorts of dirt and grime. Our professional car detailers in Hobart have the job of removing dust and particles from difficult-to-reach nooks and crevices. This service involves all parts of the interior, including the dashboard, the centre console, the doors and jambs, beneath the seats, and every other interior surface. Once the grime is removed, special protective solutions are used, which present these areas with a high-gloss finish.
TYRES AND WHEELS
Brake dust, filth and contaminants from the street accumulate on your tyres and wheels, and with time, certain defects become challenging to eliminate. Luckily, uniquely created products will assist in removing these difficult spots. A full service detail in Hobart by our Car Detailers in Hobart will ultimately renew the wheels of your car, eliminate those bad marks and shine the chrome or aluminium trims. The tyres will likewise be protected with a rubber cleaner, which provides them with a lustrous finish.
As well as all mentioned above, a range of extra services are incorporated in a full service car cleaning by Professional Touch Car Detailing in Hobart. Your vehicle will be absolutely rejuvenated. It will seem like new when the job is finished; it will smell glorious, and the exteriors will remain safe from all kinds of dust and dirt. Contact Professional Touch Car Detailing in Hobart for a free no-obligation quote.
Get A Free Car Detailing Quote